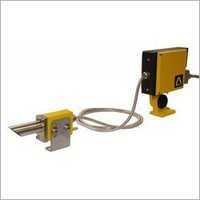 Hot Metal Detector Delta
Product Description
Hot Metal Detector Delta
The Stato-Sonde Z3 is a hot metal detector used for the detection of product with temperature over 400 °C / 750 °F. It has been designed to operate in industries such as steel mills and foundries.

Presented in a resistant case, it is designed for use in the severe conditions of the steel industry. It includes a protective hood with air purging and an optional cooling jacket.


Working Principle:

The infrared radiation of the hot stock is focused by a lens and then collected by a photo-electric cell. When the energy level is over the adjusted level the output of the Stato-Sonde Z3 detector is switched on.


Special Features:


Optical field : 15° vertical and 4° horizontal adjustable with a shutter at the front side of the protective hood.

High current static output, relay output or opto solid state relay.

External sensitivity adjustment (located under the cover at the back side of the apparatus).

TEST function to simulate hot product, from the control room (built in lamp for simulation).

Multicolour LED indicator.

Optional connector and silicone cable with protective steel braid (Z3 - C - ).

Frontal hood that can be hinged down to easily clean the sensor lens. This protective hood is equipped with an inlet for compressed air, to keep out dust.

A cooling plate is available, with a water flow rate of 2 I/mn, for use when ambient temperature is over 75 °C / 170 °F.

Modular construction, allowing rapid maintenance.

Detection from 400 °C

Viewing angle : 15° vertical, 4° horizontal

Designed for harsh environment
Contact Us
184/10, Gali Bandookwali, Inside Ajmeri Gate, Delhi, Delhi, 110006, India
Phone :+918068094708